Sustainable Manufacturing at RPWORLD

27 December, 2021
Sustainable manufacturing has become an increasingly valued initiative that minimizes environmental harm, ensures minimal wastage, and protects natural resources in the industry. For years, RPWORLD has been making great efforts to be environmentally responsible in the conduct of business and is committed to investing in the cutting-edge equipment and introducing most effective measures to be a sustainable manufacturing supplier.

RPWORLD strives to operate our manufacturing facilities in a manner that leaves the smallest environmental impact as possible. We have installed charging facilities for electric vehicles in parking lot to encourage drawing on green electricity. More effectively, a comprehensive fumes purifying equipment has been invested and installed at RPWORLD, following by our longtime-existing scrap and fluid recycling measures. We are proud that we have made further steps towards zero environmental impact and the sustainable manufacturing services.

The purified air even cleaner than it went in!
We are equipped with the dust-free paint room and sets of comprehensive air purifying equipment to keep the parts uncontaminated and eco-friendly. The high-end purifying equipment has connected to all fumes-generated rooms at our manufacturing facility. When the fumes generate and come into the equipment, it will firstly go through the water spraying to remove the large particles as a pretreatment, then pass through UV photolysis and activated carbon adsorption equipment to completely decompose the harmful substances in the fumes and efficiently purify the treated gas. It can be put that the purified air is even cleaner than it went in!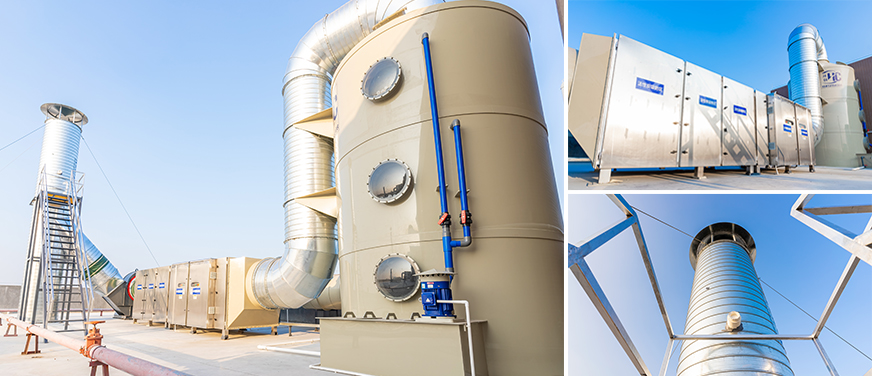 Make the best use of recycled materials and scrap
At RPWORLD, it is essential that all solid waste is classified, and if possible, reuse the waste materials, such as the plastic materials including thermoforming plastic, and metal materials. We've contracted with local government to cooperate with licensed contractors to dispose the scrap in accordance with national environmental protection regulations. This will greatly reduce waste in landfill.
Use it necessarily and dispose it properly
The cutting fluid must be used when CNC machines tools rotate to cool the cutter head, lubricate the cutting surface, and wash away debris. At RPWORLD, we use a natural mineral oil mixed with water, which will be filtered and recycled several times for maximum efficiency. Additionally, we cooperate with licensed contractor to take away waste fluids, which will be disposed safely in accordance with environmental protection regulations.

For the better planet
We continually upgrade equipment and processes to pursue improvements in reducing waste and environmental responsibility. RPWORLD CEO, Mr. QIAO comments: "Over the last years, we have made significant progress on increasing the energy efficiency, the reduction of landfill and sustainable products with a lower carbon dioxide footprint. We will further insist on a diligent implementation to sustainable manufacturing." Mr. WEI, General Manager adds: "The sustainable manufacturing allows our customers around the globe to make our planet better. Together, we can change the world for the better by delivering sustainable manufacturing services and final products."
Tags: Prototype CNC Machining Injection Molding Urethane Casting Environmental