Are you aware of a component does not create added value, while is significant and indispensable for products? That is fasteners. For a product, a fastener only fixes the parts, and has barely no effect on the utilization. Meanwhile, the production of fasteners, like bolt and nut, costs greatly on time and money. What's more, a tool is required when using a fastener. So, it is necessary for product design to reduce the quantity and type of fasteners.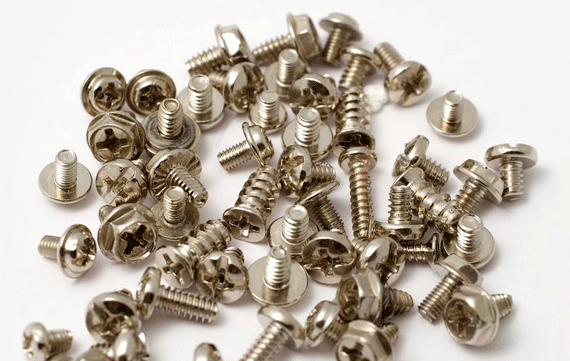 1. USING FASTENERS OF SAME KIND
As shown in Figure 1-1, there are four types of bolts with different length, head form and thread form in original design. Through optimal design, the type of bolt was reduced to one regular kind, M3x6, which ensures the application of fasteners in different position of a product.

2. USING SNAP JOINT ASSEMBLIES OR EDGE FOLD INSTEAD OF FASTENERS
Snap joint assembly is the most economical and environmental method. Comparing with traditional bolt assembling, snap joint realizes fast, time-saving and cost-effective assembly.

As Figure 1-2 shows, two plastic parts are fastened by snap joint. While compressed edge fold can be used in sheet metal to reduce the fastener number.
As Figure1-3 shows, two sheet metals are fixed by four bolts in original design, while the bolts are reduced to two by adding compressed edge fold (like the function of snap joint in plastic part) to sheet metal in optimized design.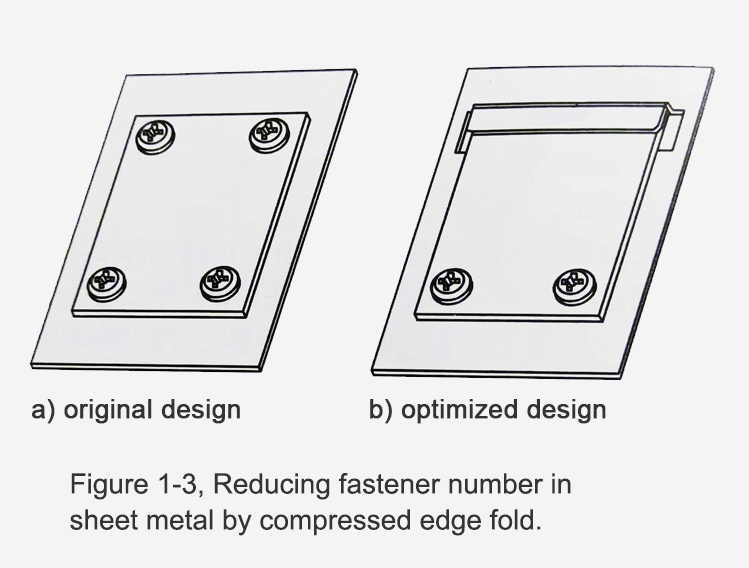 3. AVOIDING THE DISCONNECTED FASTENER DESIGN
An integrated part instead of two separated parts can shorten the type of fasteners as well as assembly time, and improve the efficiency. Please check out Figure 1-4.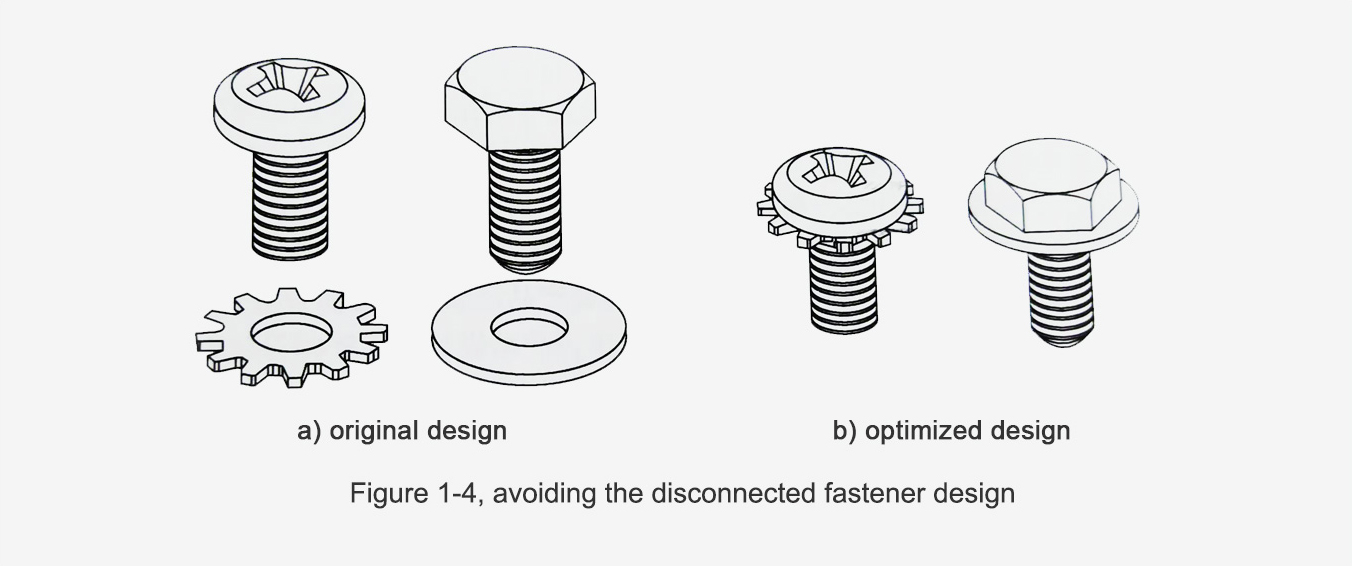 4. USING TAPPING SCREW INSTEAD OF MACHINE SCREW
Using tapping screw rather than machine screw in metal material component can avoid tapping processing, which the production cost is expensive. Apply tapping screw to plastic component rather than machine screw will avoid embedded nut in injection molding. Furthermore, it could reduce the quantity and cost of parts. Certainly, tapping screw is only suitable for the productions don't need repeated disassembly or the occasion has less requirement on fastening.
5. BOLTS AND NUTS ARE THE LAST CHOICE
Comparing with other assembly ways, the production and assembly of bolts and nuts generate the highest cost while lowest assembly efficiency. Therefore, please remember make bolts and nuts your last choice, unless there is extremely high requirement on the assembly of parts.