As the high-mix, low-volume manufacturing supplier of more than a decade experience, we'd like to share design tips which will make your parts easy for machining. In return, you will get parts with short lead time, high precision and higher quality! The structure of the part to be CNC machined should be easy for the tools to cut in and out correctly. This is to cut the tools changing times, improve the working efficiency, and reduce the manufacturing cost.
1. Enough space for tools
In original design, the hole is too close to the vertical wall of the part, which interferes the drill chuck. Only the non-standard extended tool can be used, but the rigidity of the tool is poor. While in optimal design, the space is bigger, where standard tool can be used to ensure the manufacturing precision.

2. Undercut of gear shaping
When gear shaping, leave undercut, so that the big gear can hobbing or shaping, and the small gear can shaping.

3. Tools back-off in planing
When planing, there must be enough space for the tools back-off at the front end of the plane, so that the tools can be moved.

When grinding, the transition part between the surfaces should save the grinding undercut to facilitate the tools working.

If you have more design tips or any suggestions to share, please feel free to Contact Us. Click here to get a quote within hours.
Relevant Recommendations: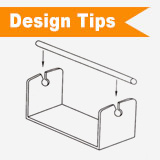 Holes designing are crucial for the connection of drilling parts, and it can directly affect the manufacturing difficulty and cost. To realize on-budget and time-efficient CNC manufacturing, here 5 design guidelines about holes for your CNC drilling parts.