Quality Assurance is Paramount at RPWORLD
RPWORLD high-mix, low-volume manufacturing allows for the design flexibility that mass manufacturing cannot match. The process, tooling and materials being used for low-volume parts sometimes are not as certain as those of mass production parts. That's why quality assurance is paramount at RPWORLD, and it's one of the core benefits for our customers. The combination of our stringent quality control throughout the manufacturing process and state-of-the-art inspection equipment best ensures your original precision specifications, as always.
Highly Skilled Inspection Team with Extensive Experience
Behind the digital inspection throughout RPWORLD manufacturing process, it's our highly skilled inspection team with extensive experience who drive the entire quality control process. Our inspection engineers own expertise and know-how on using the advanced machines, receive regular professional training and applies an internal audit to drive sustained improvements on part quality. These initiatives are performed to meet your needs on higher accuracy and more complex geometries.
ISO Certification
We are committed to the continuous improvement of our quality initiatives and enhancement of quality standardization. RPWORLD is ISO 9001:2015 certified, with a standardized quality management system that used to create efficiencies by aligning and streamlining processes throughout the company, in an effort to bring down costs, meet regulatory requirements, and help development business in which clients demand ISO 9001 certification.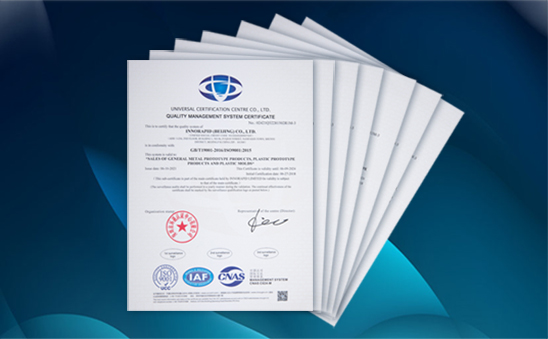 The Stringent Quality Control Throughout Manufacturing Process
To ensure the consistent high quality for your on-demand parts, the stringent quality control system is performed from incoming materials to final goods delivery. Plus, the digital inspection documentation including FAIs, Certificate of Conformance are also provided for your traceability and final reviews.

A Wide Variety of Inspection Equipment
Coordinate Measuring Machine (CMM)
If your part is a complex-geometries with precision requirement, a Coordinate Measuring Machine (CMM) will be the choice to give the accurate inspection, which tremendously increases the accuracy and efficiency. At RPWORLD, the CMM is also used for FAI and a FAI report will be provided for customer's review.
Blue Light 3D Scanner & Laser Handheld 3D Scanner
An enhanced digital inspection option is 3D Scanner, which is used to inspect dimensions for all final goods. The machine evaluates full-scale dimensions of a part and generates a color-map with 3D data, then identifies dimensional variances. It greatly increases the inspection efficiency and accelerates the delivery times.
Flash Measuring Machine
Flash Measuring Machine will play its role when it comes to final part inspection. It provides batch of parts with rapid and accurate dimensional measurement and instant reporting, and the lead times could be cut down by up to 50%.
Colorimeter and Color Controller Light box
The paint color and shade will be inspected through Colorimeter and Color Controller Light box to ensure the color accuracy and consistency of your parts.
XRF Analyzer
The XRF analyzer detects the elemental composition of materials to verify if the incoming materials are qualified, ensuring high quality from the beginning.
Infrared Carbon & Sulfur Analyzer
Infrared Carbon & Sulfur Analyzer analyzes the carbon and sulfur content and identifies the performance of metals, ensuring the part qualification for the incoming materials.
Industries Applied
Injection Molding is widely applied in rapid prototyping and producing pilot and low-volume production parts in a wide range of industries, such as medical & dental devices, scientific instruments, auto parts, home appliances, engineering companies, and robotics etc.
Medical Devices
Mechanical Engineering
Scientific Instruments
Robotics
Industrial Devices
Auto Parts
Home Appliances
Industrial Designs
Quality Assurance
Quality System Certification ISO9001:2015 obtained since 2015.
Strict quality controlflow: IQC(Incoming Quality Control), FAI (First Article Inspection), IPQC(InPut Process Quality Control), OQC(Outgoing Quality Control) and COC (Certificate of Conformance) can be provided at your request.
Rich Inspection Ways and Inspection tools, like pin gauge, colorimeter etc.
High-precision Testing Equipment:Quadratic Element Image Measuring Instrument and 3D-coordinate Measurement Instrument.
Sound Storage System to Keep the consistency of the product quality.
Well-trained QA Team with over 10-year experiences.
Strict Quality Control System to keep processes improvement and optimization.
Material certificates and test reports can be provided on request.