What is Injection Molding?
Injection molding is a manufacturing process for producing parts by injecting material into a mould. Injection moulding can be performed with a host of materials, including metals, elastomers, and most commonly thermoplastic and thermosetting polymers. Material for the part is fed into a heated barrel, mixed, and forced into a mould cavity, where it cools and hardens to the configuration of the cavity. Injection molding is widely used for manufacturing a variety of parts, from the smallest components to entire body panels of cars.
How Does Injection Molding Work?
1. Clamping. Make preparation for the mold,feed the polymer resin (pellets) down to the auger (screw) and melt the polymer and ready for injection into the mould, clamp the mould.
2. Injecting. Polymer Melt is injected Into the Mould at high pressure (typically 10,000 - 30,000 psi).
3. Cool the mould. Typically moulds are air or water cooled. Injection mould cooling consumes about 85% of the cycle time for the entire process.
4. Unloading the mould. After solidification, the clamp holding the two halves of the mould together closed shall be opened allowing the parts to be removed.
Advantages of Injection Molding
Rapid Turnaround

With fully automatic robots, INNORAPID is able to produce top quality molded parts within 10 workdays.

Lower Costs

Piece price is significantly lower with molding vs other processes, particularly as production quantities increase into the thousands.

Strength

Molded parts generally perform better than the same CNC Machined parts from the same material. Selection of the resins allow for a wide range of corrosion resistance and chemical and solvent compatibility.

High-precision

Molds are CNC machined to high precision, high tolerances and are able to produce thousands of identical parts with very small and intricate details.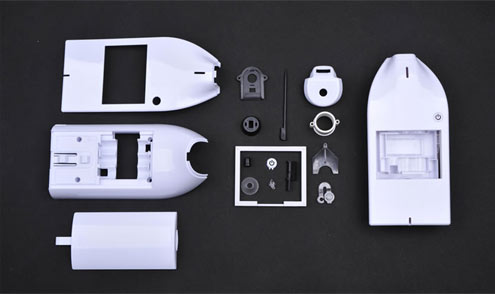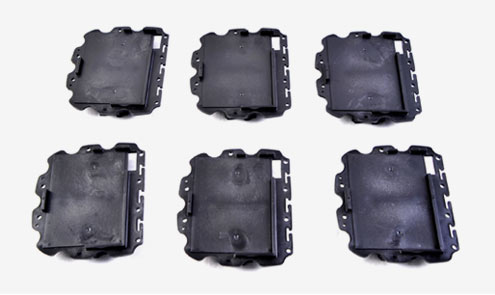 Why Injection Molding Service at RPWORLD?
Fully Automatic
Robot arms are applied so that fully automatic production can be achieved and parts could be delivered in 10 days or less.
Rapid Over-molding
Rapid over-molding for complex plastic parts.
Lead Time
Generally, it will take 2 weeks to 3 weeks. It can be shorter as per specific situation.
Free DFM Analysis
Expert feedback and free design for manufacturability (DFM) analysis.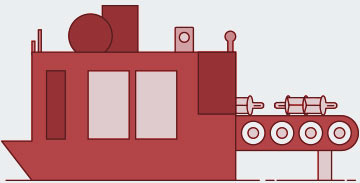 Clamping Force Range
Min:80tons(10*10*5mm-part)
Max:260tons(610*610mm-mold)
Optimal Batch Sizes
From 50 pieces to 10,000 pieces each year.
Micro Injection Molding
Micro injection molding will be launched, which can effectively reduce the production cost of low-volume injection and shorten the mold development time (from 4 weeks to 1-2 weeks).
Materials Available for Injection Molding
| Materials | Material Category | Attributes / Applications |
| --- | --- | --- |
| PA+GF | Plastic | Gear / Machinery / Automobile |
| TPE/TPU | Plastic | Soft material, similar to rubber |
| PEEK | Plastic | Automotive and Electrical Applications |
| LDPE/HDPE | Plastic | Packaging |
| PA6+GF30 | Plastic | Bearing / Gear / Machinery / Automobile / Electric apparatus |
| PPS | Plastic | Good heat resistance. Electrical parts / Auto parts / Chemical equipment |
| PTFE | Plastic | High-frequency electronic equipment / Radar / Insulation parts |
| PS | Plastic | Lampshades / Transparent food containers / Cassette tape cases |
| PA | Plastic | Bearing / Gear / Machinery / Automobile / Electric apparatus |
| PP | Plastic | Housings / Living hinges / Thin-Walled Parts |
| PMMA | Plastic | Vehicle lights / Lenses / Light pipes |
| POM | Plastic | Good abrasion resistance. Gears / Bearings |
| PC/ABS | Plastic | Automotive interior part / Consumer electronics product / High-end helmet / Mobile phone casing / General molding product |
| PC | Plastic | Excellent transparency, high heat resistance, ultra high impact resistance, dimensional stability, etc., a wide range of applications. |
| ABS | Plastic | An excellent engineering plastic.Housings / Lamp seats / Toys / Household appliances |
Surface Finishes
After machining, surface finishes are applied and customers can select the appearance, surface roughness, hardness and chemical resistance of the finished parts as they like. What surface finishing can I get? Click Here
Industries Applied
Injection Molding is widely applied in rapid prototyping and producing pilot and low-volume production parts in a wide range of industries, such as medical & dental devices, scientific instruments, auto parts, home appliances, engineering companies, and robotics etc.
Medical Devices
Mechanical Engineering
Scientific Instruments
Robotics
Industrial Devices
Auto Parts
Home Appliances
Industrial Designs
Quality Assurance
Quality System Certification ISO9001:2015 obtained since 2015.
Strict quality controlflow: IQC(Incoming Quality Control), FAI (First Article Inspection), IPQC(InPut Process Quality Control), OQC(Outgoing Quality Control) and COC (Certificate of Conformance) can be provided at your request.
Rich Inspection Ways and Inspection tools, like pin gauge, colorimeter etc.
High-precision Testing Equipment:Quadratic Element Image Measuring Instrument and 3D-coordinate Measurement Instrument.
Sound Storage System to Keep the consistency of the product quality.
Well-trained QA Team with over 10-year experiences.
Strict Quality Control System to keep processes improvement and optimization.
Material certificates and test reports can be provided on request.