Looking Back to Move Forward---RPWORLD Highlights 2021

11 January, 2022
At RPWORLD, we use on-demand digital manufacturing serving our customers throughout their product life cycle with unmatched speeds and the highest quality. In the past year 2021, the global companies had suffered from the challenges causing from supply chain crisis, natural disasters and the ongoing global pandemic. The issues have revealed an important principle that they cannot survive without flexibility, speed and sustainable manufacturing. With RPWORLD continual improvement on speed and flexibility, we achieved extraordinary performance and results on supply chain integration, acceleration of digital manufacturing service and the sustainable manufacturing services.
This report is to conclude the highlights of RPWORLD in 2021 and the sustainable development strategy with the following topics:
►

Business highlights of 2021 at RPWORLD


►

The challenges RPWORLD conquered in 2021


►

RPWORLD sustainable strategy


►

Customer benefits from RPWORLD sustainable


manufacturing in 2021




►

Cases of RPWORLD integrated supply chain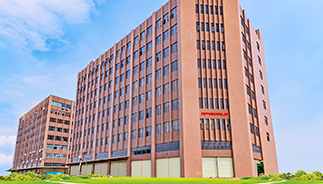 RPWORLD Business Highlight in 2021


RPWORLD is committed to providing R&D based companies with one-stop manufacturing services, ranging from rapid prototyping, low- to mid-volume manufacturing and on-demand production. In the past 2021, we have made positive strides in the highest quality and the fastest manufacturing services. The efforts have been seen by the following highlights.
● RPWORLD Business Highlights 2021
Product qualified
rateCustomer recommendation
rateCustomer repurchase
rate
● Financial Highlights 2021
54%
Annual sales growth in Europe
64%
Annual sales growth in North America
● Manufacturing Services Proportion in 2021
● Manufacturing Applications Covered
The challenges RPWORLD conquered in 2021


Though RPWORLD made significant progress regarding business performance, manufacturing capabilities and the sustainable development in 2021, we have to admit that it was a challenging year for RPWORLD. The challenges come from both internal and external:
Power
rationing
Exchange
fluctuations
Raw materials
cost increasing
Shipping cost
increasing
Unpredictable
shipping time
Pandemic
RPWORLD sustainable development strategies


How RPWORLD maintains the highest quality manufacturing and engineering services and the unparalleled delivery times among the economic uncertainty globally? RPWORLD believes sustainable development and business are closely bound up and enjoy the mutual benefits. With the increasing importance of sustainability in the overall business, RPWORLD sustainable development strategies is presenting on the outstanding integrated supply chain, continually expanded manufacturing capabilities, and the far-sighted strategies for young talents.
►

Integrated Supply Chain for Customers
● Improved in-house capabilities
● Complicated sheet metal fabrication solution
● Pre-assembling solution
►

Expanded Manufacturing Capabilities
● New manufacturing facility
● More 5-axis and 4-axis CNC machines
● Dust-free painting workshop
● Professional environmental protection equipment
►

School-enterprise Cooperation
● The global universities and colleges have


established close relationships with RPWORLD.




RPWORLD believes talents are the foundation of




enterprise and the entire industries' development.
►

Enhance Inspection Capabilities
● Invested in advanced inspection equipment
● Stringent quality control throughout the


manufacturing process


● Highly skilled technicians with expertise
The customer benefits from RPWORLD sustainable manufacturing


RPWORLD is committed to delivering the high-quality parts with the fastest speed and the unmatched one-stop shop manufacturing capabilities. Based in customer-oriented engineering consultancy and on-demand manufacturing services, we are able to meet the customers' most critical requirements. The customers get the following benefits through collaborating with RPWORLD:
Direct Communication ●
Strict Quality Control ●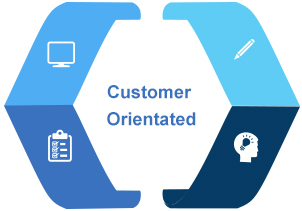 ● Quick Response
● Value Added Services
Cases of RPWORLD integrated supply chain


How could RPWORLD ensure a stable production and engineering service in this uncertain global environment? One-stop solution including sheet metal fabrication and pre-assembly helps customer simplify their supply chain from their early stage prototyping to low-volume production.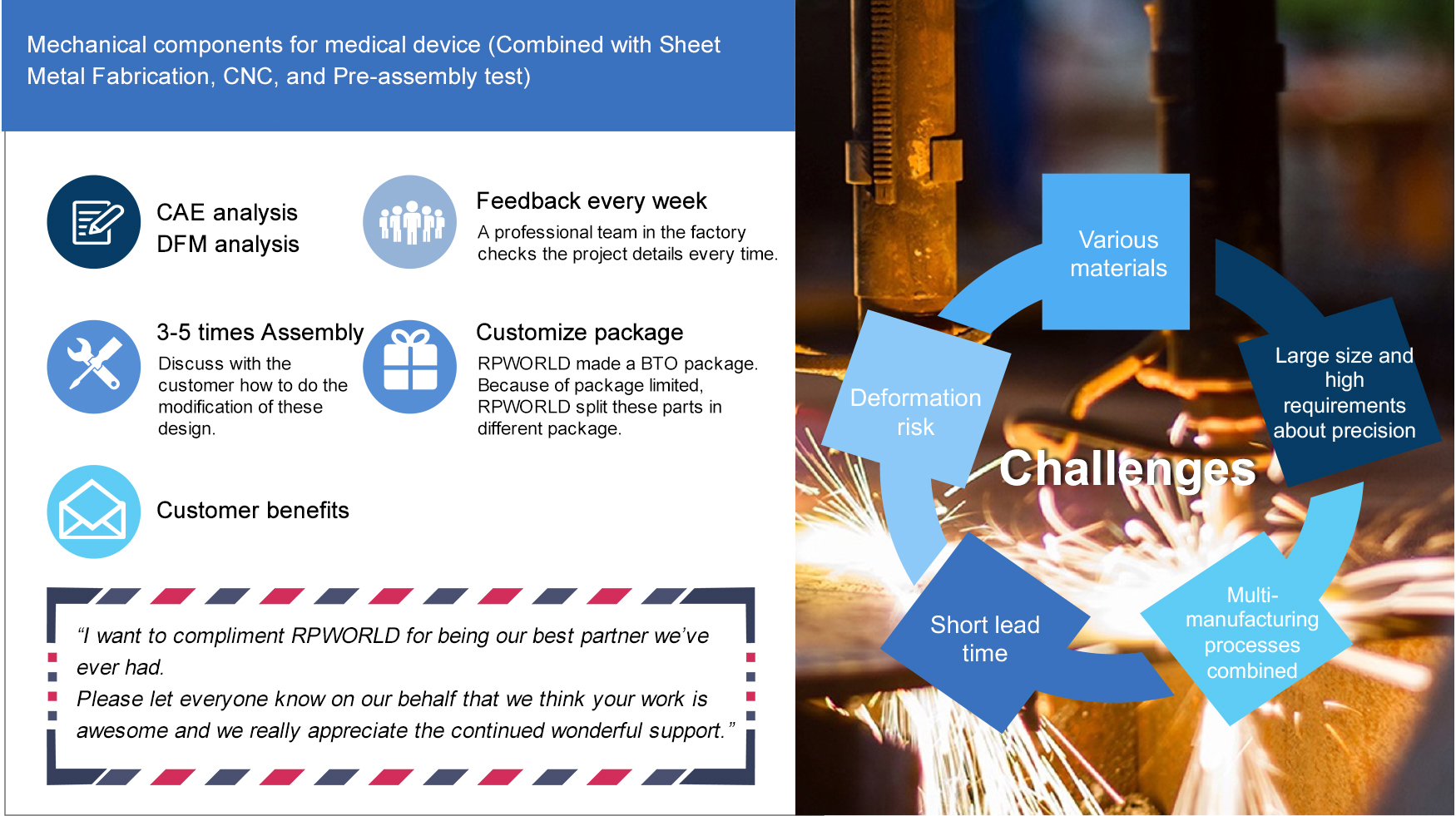 About RPWORLD
RPWORLD is dedicated to high-mix, low-volume manufacturing services, including CNC Machining, Injection Molding, Sheet Metal Fabrication and secondary services, including DFM analysis, finishing options and pre-assembly to provide global customers with engineering consultancy and manufacturing solutions along their product development cycle. For more information, please CONTACT US at

[email protected]

.